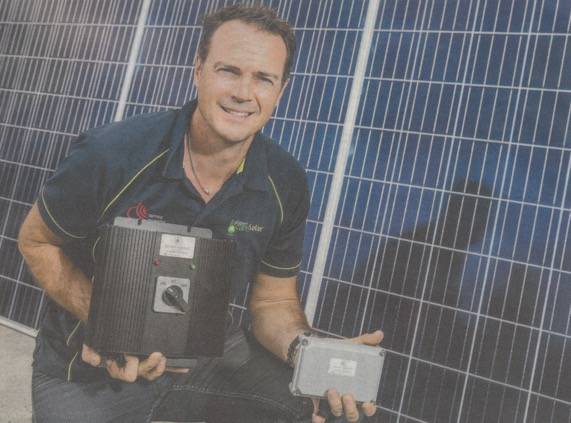 Array Energy is owned and operated by clean energy enthusiast, Campbell Medcalf. After owning his own Architectural and Construction companies since 1999 he decided to venture into the exciting world of renewable energy and established Array Energy in 2011.
The company mission was to cater for the ever demanding need for rooftop solar while being at the forefront of new Solar Technology. Campbell always wanted: "to be involved with a new technology industry that could utilise my existing skills while being on the cutting edge of development in the renewable energy sector".

Array Energy has always wanted to be more than just another solar company, offering all types of renewable energy solutions. From rooftop Solar to battery storage and rejuvenation, hot water and pool heating solutions and off grid and lighting solutions. Basically, all products to save our customers money in electricity cost or to provide a solution to solve an energy supply problem.

Array Energy has established itself as a premium Solar Energy company learning from our years of experience to only use trusted brands. With solar panel pricing plummeting over the years it is now much easier to make sure you have a quality panel with the publication of the Bloomberg New Energy Financial List. If the panel manufacturer is not on the Bloomberg Tier 1 Module list then it should not be used in Australia. (see the current Tier 1 list at: ). With the top 33, most stable solar panel manufacturers listed in production capacity order it is now a simple decision to choose a quality, trusted brand once a few pricing options are compared and supply is confirmed.

Inverter manufactures have dramatically shrunk over the years especially with legislation changes in Australia that forced many smaller companies to exit the market. Array Energy have always opted to use predominantly European manufactured products however this market has always been more expensive and has also shrunk with the overwhelming supply of Chinese assembled inverters at much more competitive prices. While we always seek out the best solar products we can find, it is inevitable that the Chinese market is taking over the Solar industry and will continue to force prices down with their innovative and cost effective manufacturing techniques.
Solar power products come with some of the longest warranties in the electronics industry however Array Energy has always said that a products warranty has no relevance if the company you bought from is not around to honour it or to help you through the process of making a claim. Long jeopardy is a rare thing in this industry and history is an important teacher. You can't trust a company if you can't visit their office or see their range of products.
With the Array Energy Head office, showroom and Warehouse in Burleigh Heads, QLD and warehousing in Newcaslte, Sydney and Victoria, we encourage your inspections. Our friendly and experienced staff are more than happy to answer your questions and can more often than not explain the reason why they installed an Array Energy solar system and the benefits of owning a premium solar power product.